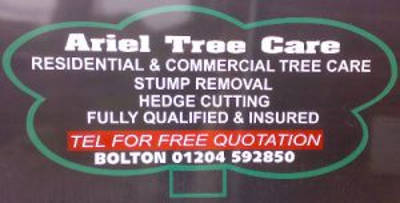 At Ariel Tree Care, we offer a wide range of tree surgery services, from pruning to removal.
As a family-run business with our roots firmly based in Bolton and over 21 years' experience, you can be confident that we can take care of all of your arboricultural requirements, safely and efficiently.
If you have a question or would like to request our services, please  contact us; we'll be happy to help.
Discover our range of tree services here: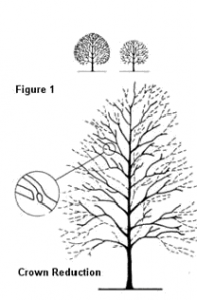 Crown Reduction
When a tree begins to take up more space than is available in the area it inhabits, it's time to reduce the canopy.
Crown reduction prevents damage to nearby buildings and helps to clear roadways and drives.  Our expert tree surgeons will do it in a way that maintains balance so it looks even better than it did before.
Find out more about crown reduction.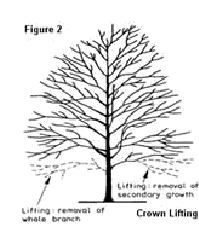 Crown Lifting
As trees grow, they can sometimes form branches that are a little too close to the ground, turning them into a hazard for cars and pedestrians that pass by.
Crown lifting is a simple way of removing lower branches to increase the space between the ground and the tree canopy, making it easier for people and vehicles to pass by without obstruction.
Find out more about crown lifting.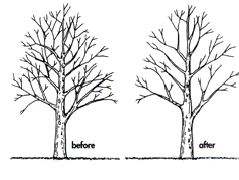 Crown Thinning
Dense canopies of tree branches often obstruct the natural light that is able to pass through them, plunging nearby buildings and paths into darkness, even in the middle of the day.
Our expert tree surgeons use crown thinning to identify and remove dead or unnecessary branches to allow more light through, helping the local plant life to flourish. It means you can enjoy the sun whenever it's out, too.
Straight Felling
When a tree is no longer desirable, the fastest and easiest method of removal is straight felling. With straight felling, a directional cut is made at the base of the trunk and the tree is allowed to fall.
Straight felling can be dangerous if it isn't done with the necessary care and expertise. Our team of experienced arborists have the equipment and the knowledge to correctly assess potential hazards and ensure your tree is felled as safely and efficiently as possible.

Section Felling
If it's unsafe to remove a tree with straight felling, section felling is the best alternative option. Section felling allows a tree to be removed piece by piece. Though it takes longer than straight felling, it's a great deal safer in environments with limited space to work in.
Our experts use ropes and rigging equipment to control the descent of debris to prevent any damage to surroundings while ensuring the complete removal of your tree.
Find out more about section felling.

Tree Stump Removal
Certain species of tree can regrow if the stump is not removed from the ground. Clearing the area properly means it can be re-turfed or replanted in the future. That's why it's important to have tree stumps on your land removed properly by a professional.
We use state-of-the-art stump grinding equipment and advanced techniques to ensure minimum ground disturbance and fast, full removal.
More Our Tree Surgery Services